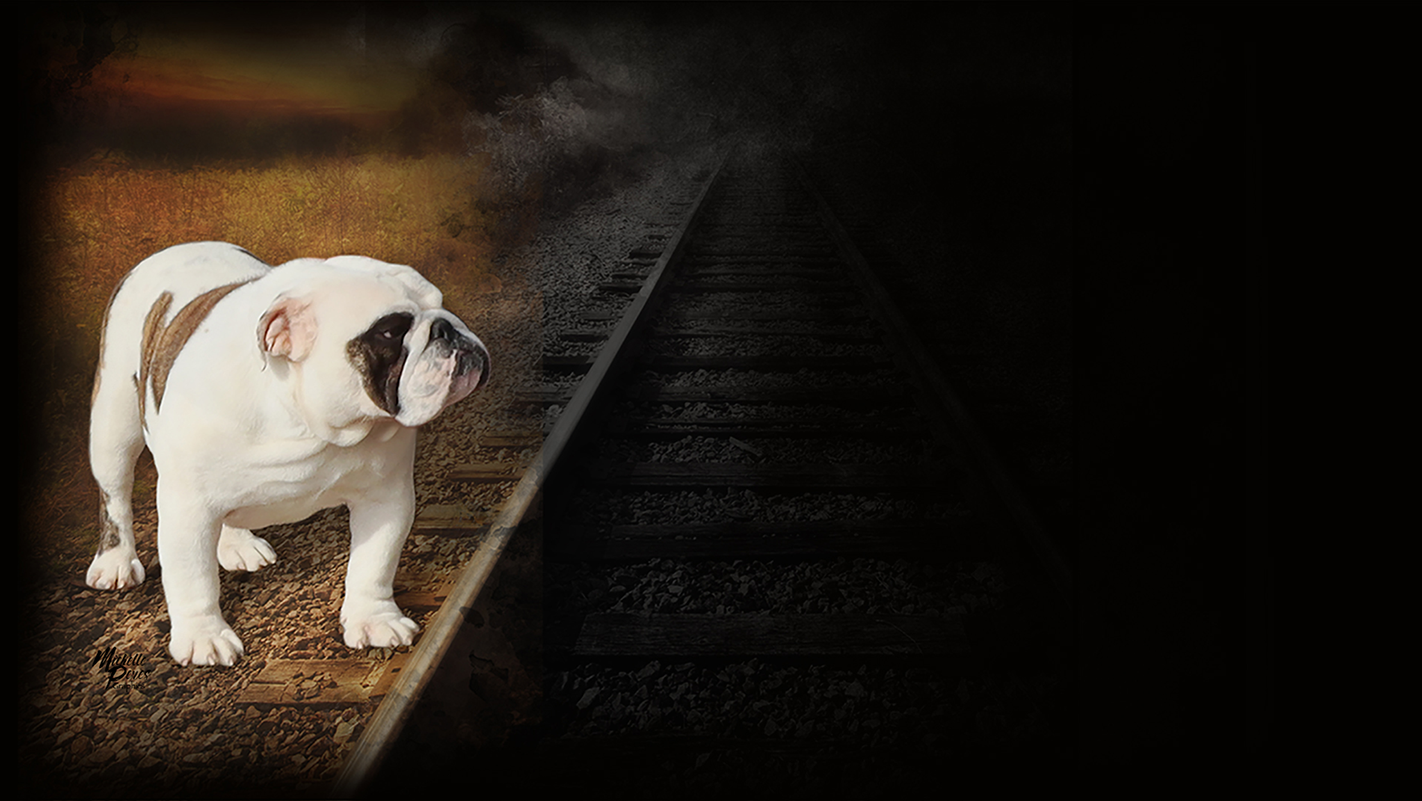 Mike & Michelle Peres
1-620-228-5730
Peres Bulldogs on Broadway
Show Bulldogs
Purchasing Information

Puppies that are sold as pet/companion pups will be American Kennel Club (AKC) limited registration.
These puppies will be sold on a spay/neuter contract, there is nothing wrong with pet/companion pups,
they are very nice and healthy.
(These puppies are pet/companion only….NOT for breeding or showing)

"Show Prospect" puppies are sold on American Kennel Club (AKC) full registration,
and are sold/placed on co-ownership terms, these terms are determined on an individual basis.
(These puppies CAN be bred and shown)

We reserve the right to refuse the sale of any puppy/Bulldog for any reason,
including if we feel the placement is not a compatible match for our puppy/Bulldog.
We want to place our Bulldogs in loving homes.  
We do care where our puppies go & about the home they will have!
Please take the time to research the Bulldog Breed and Breeders if considering adding an English Bulldog to your family.
Bulldogs are a breed that require routine daily care; they are an affectionate breed that thrives on your love,
companionship and your commitment for their proper care and well being for their entire lifetime.
We ask that you be honest with us on what you are looking for.

Most of our puppies go to their new homes 12 weeks of age or after,
we feel they adjust much better at this age.
They are vaccinated and wormed accordingly for their age,
micro-chip and re-examined by our veterinarian before going to their new homes.

We accept deposits on our available puppies after our litter is born & they have had their first complete health exam by our vet.
Deposits are $500.00 and are NON-REFUNDABLE.
Deposits are partial payment towards the purchase of your puppy.
(our puppies have their first complete health exam by our veterinarian at 6-7 weeks of age;
their second complete health exam at 9-10 weeks of age by our veterinarian  and/or prior to going to their new homes.)
We do ask to speak with you personally before we accept any deposits to reserve one of our available puppies.

We do ask to speak with you personally if you are interested in purchasing a puppy from us.
If you live overseas (outside the USA), phone contact is not required, contacting us by e-mail is fine.
We care very much where our puppies will go!
We have always loved Bulldogs and the health of our dogs is very important to us. All of our Bulldogs are spoiled with lots of love and attention!

We breed for quality, Not quantity.
Puppies Available Occasionally
We prefer to place our available puppies
in loving homes as pet/companions.
*You can make initial contact by e-mail,
but we would like to speak with you personally
if you are interested in purchasing a puppy from us.*
We care very much where our puppies will go!
Visitors welcome, by appointment!
Puppy Information
Method of Payment

We accept cash, bank cashier's check and money orders.
There is a 14 day hold on any checks or money orders after we have received them, checks MUST clear our bank and payment MUST be completed by the time you pick up your puppy and/or any travel arrangements are made for your puppy.

If you are unable to pick up your puppy here at our home, there are some options you can choose from:

1: You can fly to our airport closest to us, either Kansas City, MO (MCI) or Tulsa, OK (TUL), we will meet you there with your puppy and you can carry your puppy with you in the cabin on your return flight home. You will need a Sherpa bag for your puppy to fly with you, if you are unable to get a Sherpa bag we can get one for you, please contact us for more information. Sorry we do not ship our puppies in cargo; puppies can fly with you in cabin as long as they are around 20 lbs and under.

2: We will drive to meet you within a reasonable distance from our home, if you are driving from a long distance away, for a small fee depending on the distance we drive to meet you.

Health Guarantee

Seller made an experienced effort to breed sound, healthy puppies and gave them the best start possible. Buyer should understand that (due to the nature of the breed) Bulldogs are predisposed to certain medical anomalies, and that a normal Bulldog has a possibility to have one or more of these conditions during its lifetime. Seller certifies that the Bulldog described herein is of sound health at the time of this sale and has been immunized, wormed accordingly. Buyer is advised to have this Bulldog examined by a competent veterinarian (preferably with experience in the Bulldog breed) within 72 hours from the time that delivery of this dog is taken. If the veterinarian does not find the dog to be in good health as outlined in this guarantee and states so IN WRITING, Buyer must notify the Seller immediately. There is to be no treatment preformed until discussed with Seller. Seller reserves the right to have the dog re-examined by our veterinarian at our cost. If the diagnosis is confirmed by our veterinarian, Seller will resume possession, if Buyer so chooses.

Seller guarantees this dog to be free of serious, life-threatening genetic conditions, i.e. heart murmur, severe hip and elbow dysphasia, and pathological spinal disorder. If any such condition is found and proven in writing from a licensed veterinarian and substantiated by lab tests and/or x-rays,  and records of such condition must be provided to be verified by the seller's veterinarian; upon satisfactory verification from the seller's veterinarian, puppy may be returned to Seller for refund of purchase price only or credit towards another puppy (Sellers choice), this does not cover any transportation cost if needed. Minor, breed related, injury related and treatable or correctable conditions or any condition which could go away or is considered to be a condition which the puppy will likely outgrow are not covered. Infectious diseases are not covered by our health guarantee, as we have no control over what your puppy is exposed to after he/she leaves our home. (Please note: Puppies' immune systems are not fully mature to develop long lasting immunity to help prevent infectious diseases until they are 16 to 20 weeks of age and they have received all of their vaccinations accordingly for their age; so we highly recommend NO public places such as pet parks, pet stores, boarding kennels, groomers, etc., until they are fully vaccinated against infectious diseases.) Buyer is responsible for vet bills incurred prior to return, and transportation cost to return. This guarantee is in effect until puppy reaches ONE YEAR OF AGE. Your dog has been examined for many conditions to assure his/her health. Heat stroke, exhaustion, stress, dehydration and other heat related conditions are not covered in any way. Remember that a bulldog can over heat quickly and easily and may die as a result of overheating. He/She must be an indoor dog. The Buyer is urged to research the breed and be familiar with all health issues that could affect their Bulldog in their lifetime before entering into this or any agreement to purchase a Bulldog.
The Buyers' Responsibility

Buyers are expected to give this Bulldog the best of care to encourage a long healthy life. The Buyer agrees to take good care of this dog, feed and house the dog properly (indoors), maintain shots, control the dog on a harness or leash when in public and when off the premises of the dog's home. The outdoor area should be fenced in and secure, or acceptable provisions should be made to assure the dog is safe any time he/she is outdoors. Buyer agrees to give the dog proper physical and emotional care and welfare. The Buyer must agree to housing the dog indoors as its primary housing. The death, injury or loss of said dog due to theft, carelessness, recklessness, abuse, neglect, heat stroke or accident will not entitle the buyer to any compensation from the seller.

This dog is warranted only for the purpose of being a companion animal, not for any other purpose or reasons. No warranty is given to the buyer for any special purpose or function of this dog. This dog is not to be used for any illegal or immoral activities and is not to be used for any type of puppy mill or other mass producing operation.

In the event of circumstances which would force the Buyer to give up the dog, such as but not limited to loss of home, catastrophic illness, financial crisis etc, the Buyer agrees never to surrender the puppy to any animal shelter or rescue organization, instead returning the Puppy to the Seller, who will then arrange for suitable re-homing.