Pedigree CH Banta's Royal Creed At Peres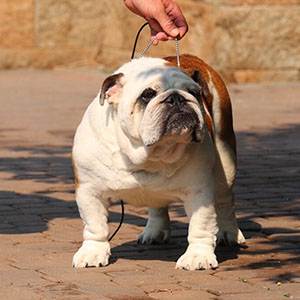 We would like to give special Thanks to our very good friends Randy & Stacy Banta for trusting us with their wonderful boy! Creed completed his requirements for his AKC Championship at Tulsa Bulldog Club Specialty Show Labor Day weekend 2014. Creed is a very nice boy with a wonderful personality, nice substance & beautiful movement.
Creed is Platinum Level BCA Ambassador for Health!
OFA Patella #: BU-PA792/32M/P-VPI
OFA Cardiac #: BU-CA994/32M/P-VPI
OFA Trachea #: BU-TRH193/32M-VPI
OFA Elbow #: BU-EL98M32-VPI
OFA Thyroid #: BU-TH209/32M-VPI
HUU Carrier
Cystinuria Type III Clear
CHIC #: 92257
Multi CH, Eng. CH Ocobo Freddy Mystyle
Am. CH Admireabull Cherry Blossom
Ocobo Golden Icon Mystyle
Eng., World CH Mystyle Golden Wonder
Maddalo Robot Magoic Of Ocobo
Ringablok McDonald Mystyle Top Sire 2005 & 2006
Leighbeck Last Tango With Ocobo
Whyebuleigh Third Domain From Ivabully
Ivabully Tensel Diva At Admireabull

Copyright © 2007-2019 Peres Bulldogs On Broadway, All Rights Reserved. No part of this website may be copied, reproduced, transmitted in any form without our written consent.
News Soon!
We have Available Puppies!
Please contact us for more information or if you would like to be put on our wait list.